Easy Chocolate Protein Mug Cake Recipe
Easy Chocolate Protein Mug Cake Recipe
Who doesn't love a tasty treat that's high in protein and low in guilt? This whey protein dessert is the perfect chocolate fix- literally. Take post-exercise to aid recovery and to end cravings.
Preparation Time - 2 minutes 
Cooking Time - 1.5 - 2 minutes* 
Servings – 1 
Ingredients: 
1 large egg
40g ripe banana well mashed**
90 ml (3 tbsp) milk
25g plain flour, oat flour or gluten free blend  
1 ½ Scoops Kinetica Chocolate Whey Protein
10g cocoa powder or raw cacao powder
¼ tsp baking powder
1 tbsp mini dark chocolate chips (optional)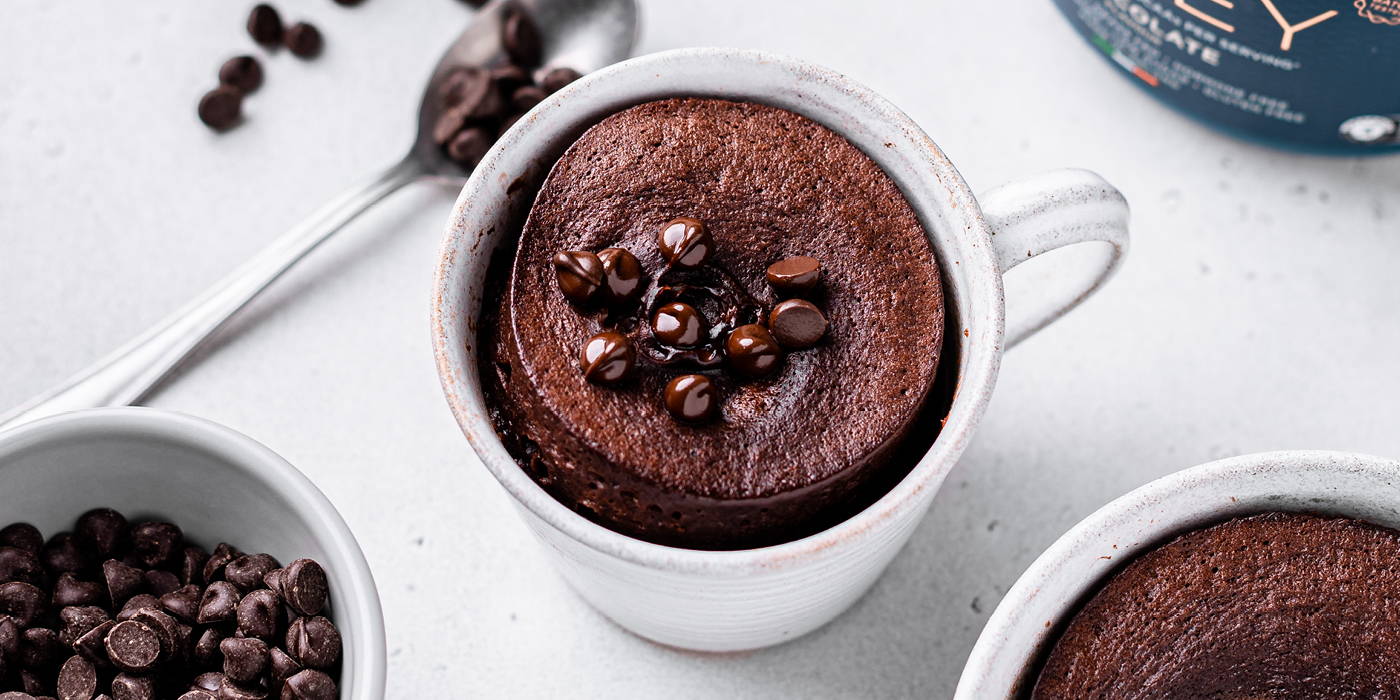 Method:
1. Blend all ingredients together until smooth by placing them in a jug and using a hand blender, or blend in your blender. Fold in chocolate chips.
2. Grease a mug or small bowl with spray oil or coconut oil. Make sure that the bowl or mug is microwave safe!  
3. Pour batter into the prepared bowl or mug. You need to leave about 2 inches above the cake mix for it to rise.
4. Cook for 1 minute in the microwave on high. Check and cook for 10 seconds more at a time until the cake looks cooked across the surface. You can undercook it a little and remove it when the centre looks a little underdone; you will most likely be left with a little underdone batter across the bottom that will serve as a sauce!
5. Top with chocolate chips and a scoop of ice cream if desired.
Macros per serving: 
Calories: 448
Protein: 46g
Carbs: 39g
Fat: 12g 
*Microwaves vary, as well as the mug or mini bowl you microwave the cake mix in. It will be a bit of trial and error to find your ideal consistency. We suggest airing on the side of caution and undercook it a little as a good starting place! 
**You can replace this with apple puree, or use 25g of banana or apple puree with 15g or 1 tbsp of peanut butter or nut butter of choice. If using nut butter, you may want to add 1 -2 tsp of maple syrup, honey or sugar to taste to the cake mix.